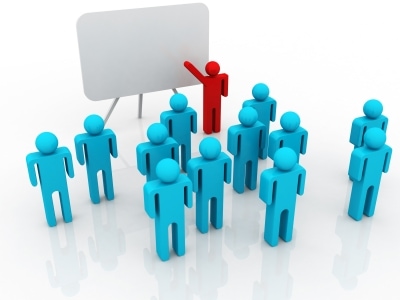 In the Triangle and across North Carolina, business excellence sometimes involves not only the quality of recruiting but that of the recruiter as well. Recently eParamus helped a local staffing organization align its training program with the onboarding process of its new recruiters. The concern for both the level of the candidate needed, and the commitment to excellence created the opportunity for change.
Since a recruiter's role is one of both education and preparation, the need for new staff to get up to speed quickly was very important. For this firm, contributing almost immediately became a top priority. The company's past efforts, involving classroom training with the use of a manual, proved ineffective when looking at the most important ingredient, the transfer of knowledge to the new employee. Prior to this new training there was "an obvious mismatch between training and results," explains eParamus CEO Laura Paramoure. Getting the new hires up to speed and adding to the bottom line were the central strategies of both the training and the development. Aligning results with purpose and quantifying that effort are what make the team at eParamus unique in this type of training situation. Performance standards were developed with the firm in the following areas:
Defining objectives
Assessing and fact-finding
Determining standards and metrics
Developing course designs that match the needed skills
Ensuring accurate processes that narrow the important knowledge loop
The training was launched after discussion and evaluation and a timeline was established:
Week One: Training, role play and feedback
Week Two: Newly developed skills set to action with real candidates and feedback
Post testing was essential to ensure the proper transfer of both the knowledge and the skill. There were additional reading and study, review, discussion, and role play that helped to ensure that knowledge transference indeed was taking place. Objectives were then reset for six weeks when the follow up testing took place. Both knowledge and process merged within this time period with the expected results.
eParamus can help your organization to improve the effectiveness of its training program through course development and instructional design. We customize this training based on your specific criteria coupled with the evaluation of each employee. This training can be measured in both effectiveness and in dollars spent. Contact us today to find out how we can help your organization.
**
This article on training and measurement is brought to you by the good folks at eParamus.
We are located at:
8601 Six Forks Road
Suite 400
Raleigh NC 27615
Office: 919 882 2108
Fax: 919 926 1404
E-mail: info@eparamus.com
Follow us on Twitter:  https://twitter.com/eparamusllc
Like us on Facebook: https://www.facebook.com/eparamus
Visit our website: http://www.eparamus.com/
Subscribe to our newsletter and stay in touch with the latest services that will help your business get to the next level. We look forward to helping you design the training solutions that have a continued positive and measurable impact on the growth of your organization.
Photo Credit: jzcreationzs courtesy of freedigitalphotos.net

For more information, fill out our contact form, send us an email at info@eparamus.com, or call us at 1-919-882-2108.
Subscribe to our newsletter to learn what eParamus© is doing for the industry.